Westmar College RIP
This Web Site dedicated to Westmar College since 1997!
Westmar College, Le Mars, Iowa, dead at the age of 107.
Westmar College 1890 - 1997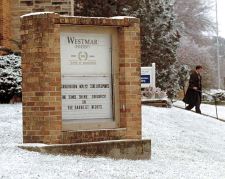 Photo by Ed Porter
The Sioux City Journal
October 10, 1997
---
June 23, 2016 Note: I created this site in 1997 as a gift to Westmar.
I made the decision to no longer update this website, but it will continue to exist in loving memory of Westmar College.
Dwight Hunter, class of '84

---


See the love for Westmar on Facebook!
Facebook page
Facebook group

YouTube Westmar College Video! See David Crane's Westmar video
See some pictures from the 2006 reunion!

---
The Last Days of Westmar College
1997 October 10 (first closing announcement)
1997 November 9 (last regular season football game)
1997 November 17 (the last week of classes begins)
1997 November 22 (the last Westmar commencement)
1997 November 23 (Westmar closed forever)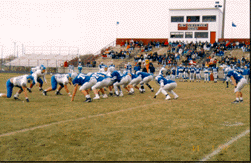 A picture from one of the last Westmar football games. Go Eagles!
WE LOVE WESTMAR! ALWAYS IN OUR HEARTS!